Leading Reform 2023
Queensland Mental Health, Alcohol and Other Drugs, and Suicide Prevention Leaders' Summit
The Summit is a forum for leaders,

people with lived and living experience, carers, frontline

clinicians and workers, service providers, policy-makers, funders, planners and decision-makers.
It is intended to be a catalyst to align leaders, develop solutions to problems, introduce new strategies, fuel collaboration, spark ideas, harness the collective knowledge of sector leaders and drive the reform agenda forward.
Driving reform
Queensland has an ambitious new policy platform for reform, with strengthened commitment and new funding streams from the Queensland Government, including a Minister for Mental Health.
We have a tremendous opportunity for genuine and lasting change.
However, the challenge for the mental health, alcohol and other drugs, and suicide prevention sectors is to implement the substantial reform agenda and maintain momentum in the face of ongoing demand.
Key shifts
In 2023, the Summit will be focusing on some of the key shifts and enablers that are necessary to drive reform over the next five years.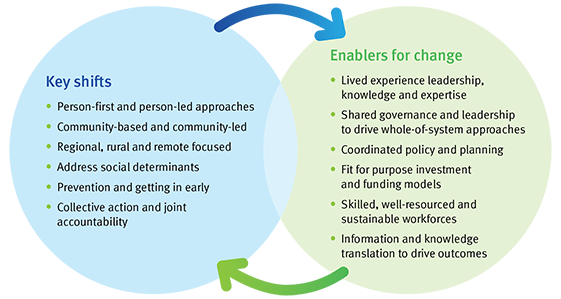 Register now
Don't miss your opportunity to attend the Leading Reform Summit.
Tickets are limited and sell out fast. Register now.
Bursaries are available for people with lived and living experience, carers and representatives of non-government organisations from rural and remote parts of the state.